About Canada Tool Company (Galt) Ltd.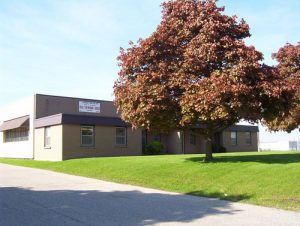 Canada Tool started in 1956 as a machine shop (custom machining, jigs, and fixtures) and has expanded into Tool & Die design, metal stamping and manufacturing.
Stamping Presses
Our modern pressroom has 16 stamping presses ranging in tonnage from 100 to a maximum of 400 tons capacity, and our tool shop is well equipped with up to date C.N.C. machining centres. Today we are an ISO 9001: 2015 Certified supplier of high quality metal stampings and tooling to any manufacturing industry across Canada and the U.S.A.
Design, Tooling and Stamping
What sets Canada Tool apart from our competition is that we are a full service company; our skilled team can take a drawing, idea or sketch through to completion under one roof.
Canada Tool has been EDI capable for over 15 years, and 2017 saw the implementation of our new ERP/EDI system, enabling us to continue to fully integrate with our customers for data interchange. The upgraded ERP software gives us total traceability of production from receiving raw stock to finished product, with barcode capability; this gives us real time inventory control and shipping efficiency.
Quality Management System Scope
The Quality Management System Manual describes the Quality Management System implemented at Canada Tool Co. Ltd. Manufacturing Precision Metal Stampings.
The policies described in the Quality Management Manual are targeted to comply with the specific clauses outlined in the following quality standards:
ISO 9001:2015
Sub clause not applicable: 8.3 Product Design
Reasons: Canada Tool Co. does not conduct specific product design.
Sub clause not applicable: 8.5.5 Post-Delivery Activities
Reasons: Canada Tool customer adds value to the part and is responsible for it.
Users of this Quality Management System Manual are advised that all customer requirements specified are applicable to all automotive metal stampings manufactured by Canada Tool Co. Ltd.
The objective of the Quality Management System is to prevent the occurrence of product non-conformance, to provide a system for prompt detection of non-conformance and to provide timely and effective corrective and preventive actions. This Quality Management System designed and developed by Canada Tool Co. Ltd. establishes an effective and economical system for assuring product quality and customer satisfaction.
It is our policy to provide full compliance with the Quality Management System throughout all phases of contract performance in order to assure that all products meet our customer's standards.
We believe in and support the philosophy that all employees are responsible for the quality of our automotive metal stampings and helping us meet our customer's requirements.
Our quality strategy rests on the premise that effective quality and cost controls can best be achieved through employee training and continual improvement concentrating on process integrity and the "prevention mode" rather than an after the fact "detection mode".
The specific procedures that support this Quality Management System Manual are identified by sections shown under Quality Management System Indexes.